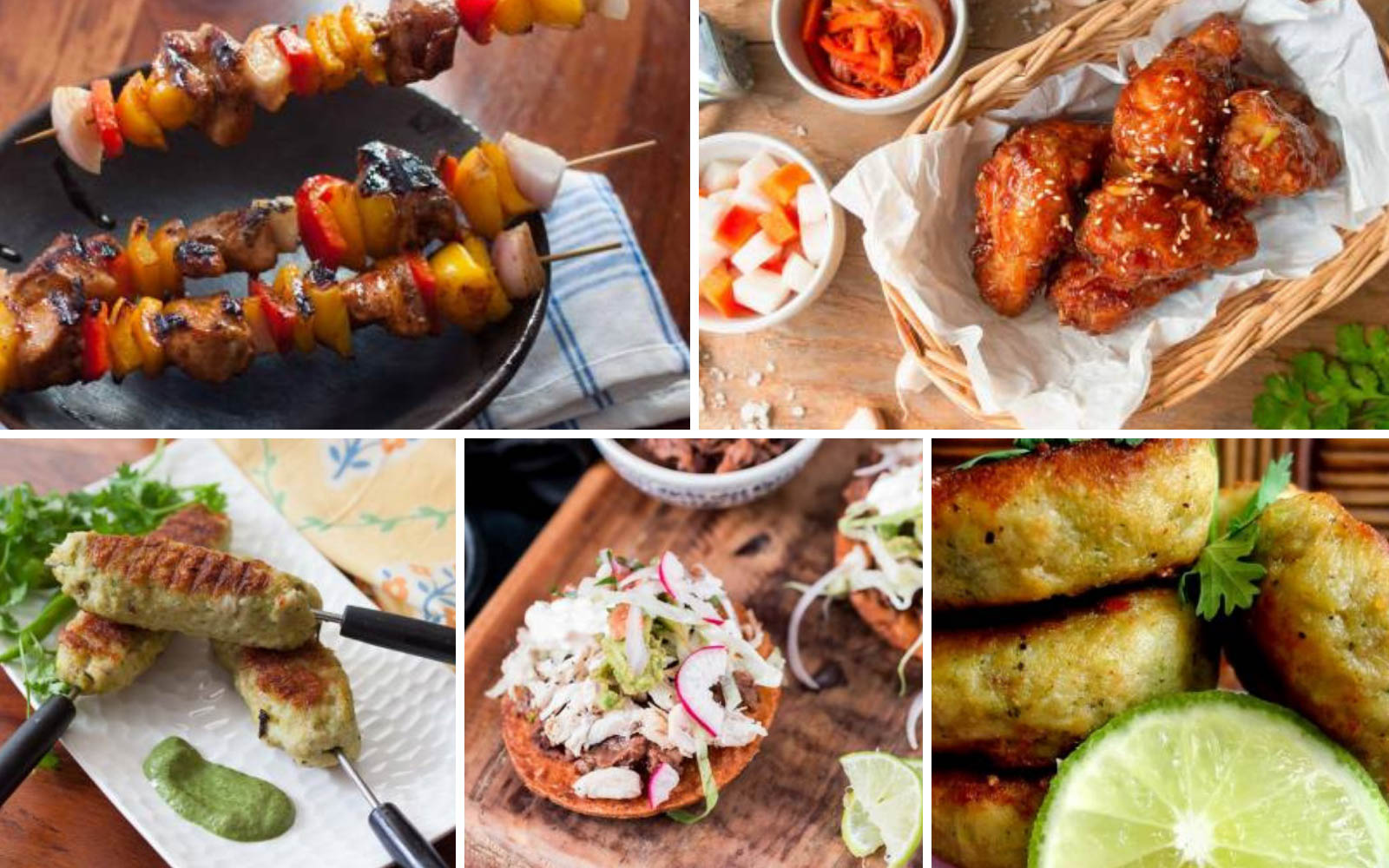 Mixed Olives
A selection of mixed Olives.
£2.75
Our Famous Nachos
Crispy Tortilla Chips smothered in Melted Cheese, topped with Salsa, Jalapenos, Guacamole and Sour Cream.
(EXTRA CHICKEN ADD £1.00 EXTRA, CHILLI CON CARNE ADD £1.00)
£5.50
Crispy Potato Skins
Potato Shells filled with 3 Cheeses and Scallions.
(EXTRA CHICKEN ADD 50P, EXTRA BACON ADD 50P)
£4.95
BBQ Glaze Ribs
Our original marinade for probably the best Ribs in the world.
£5.95
Tropical Brushetta
Oven baked crispy Garlic Ciabatta Bread, topped with Tropical Salsa, sprinkled with grated Parmesan and drizzled with homemade Basil Oil and Balsamic Syrup.
£5.50
BBQ Wings
Chicken Wings marinated in Honey Glaze BBQ Sauce or Hot & Spicy Voodoo Sauce.
£5.50
Garlic Cheesy Bread
6 pieces of oven baked cripsy Ciabatta soaked with Garlic, Parsley Butter and melted 3 Cheese Mix.
£5.20
Cajun Coated Prawns
Tiger Prawns coated in breaded Cajun seasoning and deep fried, served with Homemade Mango dip.
£5.95
Chilli Poppers
Breaded Jalapenos, stuffed with Sour Cream, deep fried and served with Sour Cream.
£5.50
---
Nachos Cowabunga
Crispy Tortilla Chips piled high with Chilli Con Carne and Chicken Chilli, melted own blended Cheese, sprinkled with Bacon Bits and Scallions, served with Sour Cream.
£10.50
Mexi Skins, 12 pieces
Crispy Potato Skins, filled with Cheese and Scallions, Smoked Bacon, Chilli Con Carne and Cheese.
£10.50
Voodoo Wings
1kg of crispy Wings tossed in Voodoo Sauce. Served Medium to Suicidal. Choice of Spicy or Sticky BBQ. Goes well with Corona!
£10.50
Peel & Eat
Pan Fried Garlic Tiger Prawns, served sizzling with Warm Tortilla.
One of our favourite starter!!!
£10.50
Sharing Platter
BBQ Wings, Cajun Prawns, Potato Skins, Garlic Cheesy Bread and Chilli Poppers.
£10.50